About Our Animal Medical Products
We strive to contribute to the development of the livestock and dairy industry through the manufacture and sale of bovine fertilized egg (embryo) transplanters.
Deep-injection Fertilized Bovine Egg Transplanter
This catheter is used for injecting fertilized ova deep into the uterine horn. By extending the soft tube from the tip of the catheter, the tip softly reaches deep into the uterine horn. It is sterilized (for one-time use) and can be used immediately upon purchase. The following features provide a favorable sense oftouch during transplantation.
Features
①Horizontal nozzle body with round tip

The rounded tip of the nozzle reduces the risk of damaging cervical and intrauterine mucosa when passing through the cervix or operating in the uterus.
②

Rounding the end of the outer tube tip (R finish)

The tip of the thick SUS precision pipe is carefully rounded (R finish). This also reduces the risk of damaging cervical and intrauterine mucosa.
③

Deep insertion component made of soft material

Soft PVC tubing is used for the component that reaches deep into the uterus. This soft PVC tube is fixed to the inner tube of the SUS and is easy to operate because it is flexible but does not stretch excessively. ④

Smooth slide resistance

Low slide resistance when extending to provide a better sense of touch inside the uterus.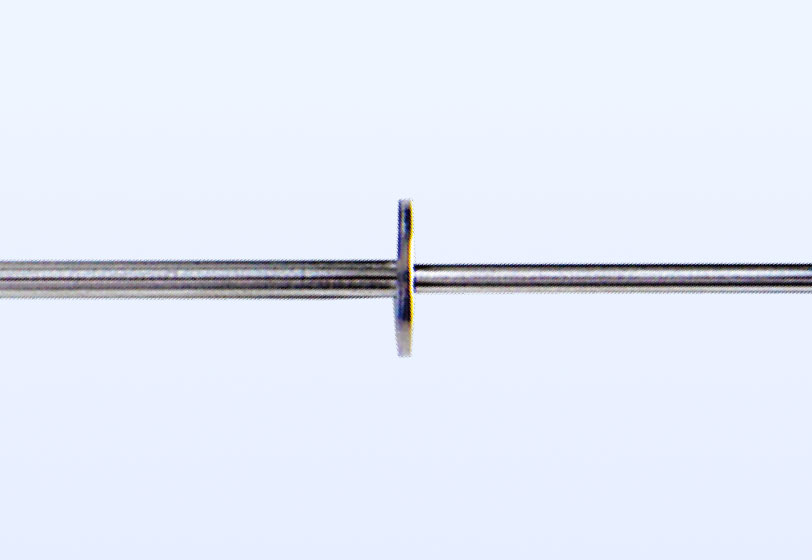 ⑤

Silicone rubber connector

Because changes in hardness of the silicone rubber connector due to temperature are minuscule, the straw and syringe can be mounted similarly in the summer and winter.